Caribe Club Princess Beach Resort & Spa is located right on beautiful Higuey Beach. It's a quick 25 minute drive from the airport and located an hour to two hours away from some of the major Dominican Republic attractions including Saona Island, Los Haitises National Park and Samana.
Below are a few of the highlights from my weeklong stay.
Pools at Caribe Club Princess Resort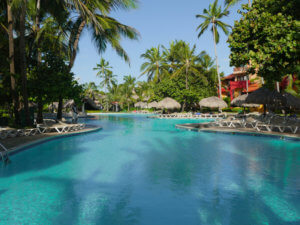 The Caribe Club Princess Beach Resort had three pools, with each one being a little different from the others.
One pool had a swim up bar, large jacuzzi and was close to the beach. I mostly stayed at this pool during my stay (for obvious reasons aka pina coladas).
Another pool had curvy edges with tons of pool seating so you could sit and relax with a drink right in the water. Palm trees surrounded the pool creating a lot of shady areas. This was nice because you could get out of the sun for a bit, without leaving the water.
The last pool was quieter, close to the beach and geared more towards families and children.
Wildlife at the Resort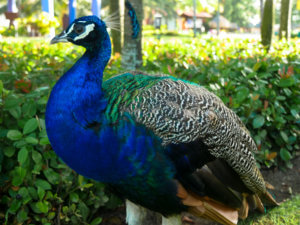 There is a ton of wildlife in and around the resort. Several birds including beautiful peacocks were right outside my room every day.
If you're looking for even more wildlife, skip the shuttle and take the long walkway from the rooms to the main lobby. During the walk you can see a variety of trees, flowers, plants and multiple ponds with fish and turtles.
Accommodations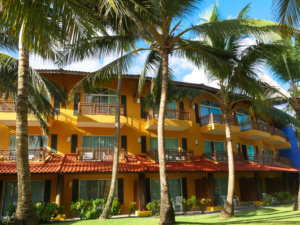 We got a standard room and this is where the experience for me fell short. We experienced a few problems, which was somewhat disappointing for being an all-inclusive beach resort.
The first problem was in the bathroom. Our shower didn't drain properly and our toilet would randomly stop flushing. We had to make sure we took quick showers because the bottom of the shower would start filling up and could potentially overflow onto the bathroom floor.
The second problem was we could not get our room to cool off. We set the thermastat to the lowest possible temperature and it never became that cool in our room. It was comfortable, but when you've been in high heat and humidity all day long, it would have been nice to have some cold air flow.
The room did have a few positives. We had a nice balcony with views of the pool and a pond area that had a ton of wildlife. The room also felt fairly big and open with high ceilings.
Beach and Activities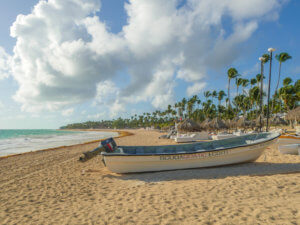 There are several water sports and activities to do right off the coast near the hotel. The resort offers several non-motorized watersports that guests can experience for free. The activities include catamaran, kayaking, windsurfing, snorkeling kit and diving.
There are also activities and excursions that you can book right at the resort for 3different prices. The activities include parasailing, speed and party boats, whale-watching tours, diving and snorkeling excursions, kite surfing, sailing lessons and much more.
For those looking to get scuba certified, the resort also offers PADI diving certification.
Food & Drinks
Caribe Club Princess Beach Resort & Spa is an all-inclusive resort. Drinks (both alcoholic and non-alcoholic) and food is free. The resort has a buffet, snack bar, café, four bars and five restaurants.
The buffet is open for breakfast, lunch and dinner and closes for a few hours each day in between meals. Each night the buffet changes the type of cuisine offered for dinner. During our stay, we enjoyed seafood, Mexican cuisine, Asian cuisine and a few others.
The snack bar is open 24 hours. The options at the snack bar are very limited, so most of the time we just waited to eat until the buffet was open.
Additionally, there is a mini-fridge in the superior rooms that's restocked with cold drinks every day and included in your stay. I really liked this because every morning I would grab a few bottles of water to take with us on our tours.
There are a few desks at the resort that you can book reservations for the five different restaurants.
The restaurants included Shangay (Asian cuisine), Mamma Mia (Italian cuisine), Sombrero (Mexican cuisine), El Pescador (fish and seafood) and La Cava (gourmet). Unfortunately, we didn't get to try out any of the restaurants because weren't at the resort during booking hours (bummer).
More Information:
Price: $$
Star Rating: ★★★★
Type: All-Inclusive Resort