Montaña Redonda (Round Mountain) is one of the most enchanting places in all of Dominican Republic.
At the top of the mountain, there are panoramic views of Samaná Bay, Laguna Redonda, Laguna Limó and El Seibo province.
It's one of those places that are so beautiful it takes your breath away.
Here's everything you need to know when visiting Montana Redonda in the Dominican Republic.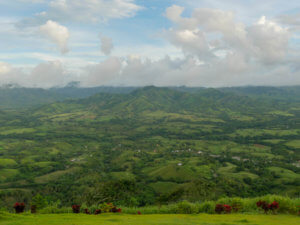 Visiting Montaña Redondaa
You can visit Montaña Redonda on your own or by booking an excursion.
Try to get there first thing in the morning or early evening when it's still light out. We visited right before the sun was going down and our group was the only ones on the mountain.
If you have a rental car, you can park at the bottom of the mountain and pay a small parking fee to park in the lot.
Local drivers are wait at the bottom of the mountain with trucks that can fit up to 30 passengers. These drivers will take you to the top of the mountain and back down for a few dollars a person.
I wouldn't advise trying to drive or walk up the mountain on your own. It's way too sketchy and I'm not sure if it's even allowed.
Several excursions also offer Montaña Redonda tours or as part of other full-day tours.
We visited Montaña Redonda on our way back from Los Haitises National Park. We didn't even know it was a part of our excursion until we were there, but we're definitely glad it was!
READ MORE: Exploring Los Haitises National Park in the Dominican Republic

Getting to the Top of Montaña Redonda
Once you're in the truck heading up the mountain, make sure all of your belongings are put away and secure. The ride is an extremely bumpy one. Like REALLY REALLY bumpy.
The road is unpaved and really narrow with no guard rails on the sides of the cliff. The good news is the drivers seem to navigate the road well given the bumpy terrain.
Just try to trust them and hang in there, because I promise it is worth it at the top.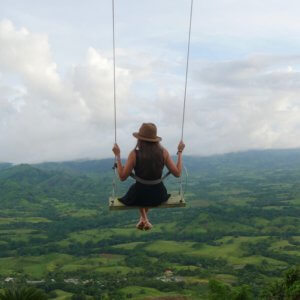 Swinging on Top of the World
When you finally reach the top of Montaña Redonda it is one of the most breathtaking views in the DR.
You can walk around and see 360 views of the surrounding areas including lagoons and miles of lush green rolling hills.
There are hammocks and swings near the edges for great photo ops. There's also a small restaurant with seating, so you can have lunch with a view.
When I was on the swing at the top of Montaña Redonda, I felt like I was on top of the world.
Montaña Redonda Map
More Information
Price: $
Location: Miches, Dominican Republic
Type: Natural Attraction