Manuel Antonio National Park is rated among the top National Parks in the world for its gorgeous beaches and jungly hiking trails.
The variety of wildlife and beautiful natural sites have tourists flocking from all over the world to spend a day in the park.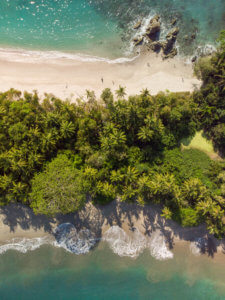 Beaches inside Manuel Antonio National Park
Beaches inside Manuel Antonio National Park include Playas Guemalas, Playa Manuel Antonio, Sendero La Trampa and Playa Espadilla Sur.
You can't go wrong visiting any of them, but my two favorite beaches inside the park are Playa Espadilla Sur and Playa Manuel Antonio.
Manuel Antonio is definitely the busiest out of the two beaches. I'd recommend checking that beach out first before making your way to the others.
If you want to have a "private" beach for a bit, try to get into the park as early as you can and head to the Playa Espadilla Sur.
We had the beach basically to ourselves for a good hour or more before the crowds started trickling in.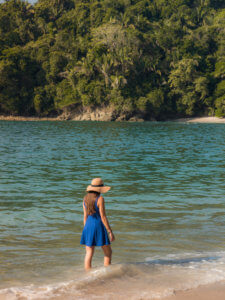 Manuel Antonio Trails and Hikes
There are several trails inside Manuel Antonio National Park that offer opportunities to see different animals and lookout areas with stunning views.
When you first enter the park, there are many trails that you can walk on before heading to the beach.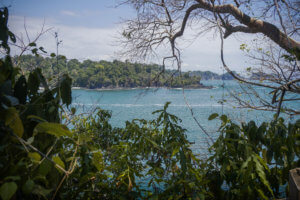 One of my favorite trails, is the Sloth Trail. The Sloth Trail takes you through a dense forested area and it is common to spot sloths hanging around in the trees.
If you want a bit of a challenge, Punta Catedral is a loop trail with jungly inclines and epic vantage points.
The hot weather coupled with steep steps makes for a great workout. Don't get discouraged, because the views are completely worth it at the top. Just make sure to bring plenty of water with you for the hike.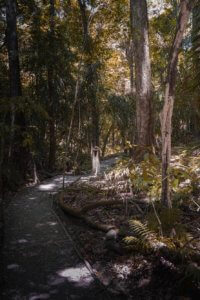 Wildlife inside Manuel Antonio National Park
There's a variety of wildlife to experience while exploring Manuel Antonio National Park.
Monkeys, sloths, iguanas, deer, racoons and toucans are just a few of the species that I encountered while inside the park.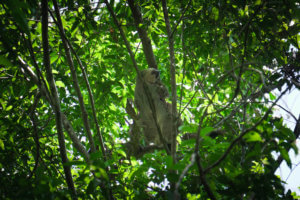 You can see these animals while on the trails and some just hang around at the beach.
While we were on the beach, monkeys and racoons came up to us a few times and started opening our bags. They were extremely friendly and completely fearless.
If you have any food, make sure it stays out of reach of the animals. They will definitely find it and run off with it!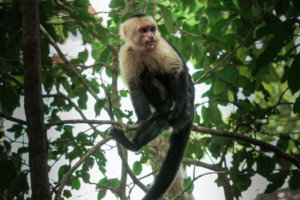 READ MORE: Seeing Crocodiles Under the Tarcoles Bridge in Costa Rica
What to Bring:
Towel
✔ Bathing Suit
✔ Water Shoes
✔ Water
✔ Bug Spray
✔ Sunglasses / Hat
✔ Camera
*See Food Allowed Below
Types of Food and Drinks Allowed Inside
✔ Sandwiches in Paper Bags or Tupperware
✔ Cut Fruit, Cookies and Crackers in Paper Bags or Tupperware
✔ Recyclable Plastic Bottles for Water
✘ NO Aluminum
✘ NO Chip Bags
✘ NO Plastic Bags
✘ NO Alcohol
✘ NO Nuts or Seeds
✘ NO Cigarettes
There are several water stations throughout the park that you can refill your water bottles.
Getting to Manuel Antonio National Park
More Information Manuel Antonio National Park
Price: $16 Entrance Fee
Hours: 7 a.m. – 4 p.m. (excluding Mondays)
Type: National Park