The Nauyaca Waterfalls are one of the dreamiest and most beautiful places in Costa Rica.
There are two massive waterfalls over 200 feet tall and located in the middle of the lush green rainforest.
It is an amazing place to spend a day swimming, climbing, relaxing and simply enjoying nature.
Here is everything you need to know about Hiking to Nauyaca Waterfalls in Costa Rica.
Getting to Nauyaca Waterfalls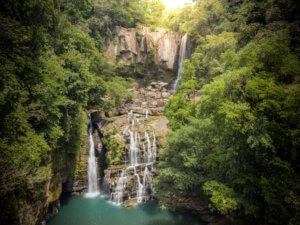 There are several ways to get to Nauyaca Waterfalls including, hiking, horseback, 4×4 vehicles and motorbikes.
If you're interested in a 4×4 or horseback tour, you can book online or visit the office located right at the entrance to Nauyaca Waterfalls.
We chose to hike to the waterfalls and paid for tickets right when we arrived.
Nauyaca Waterfalls Map

Cost for Nauyaca Waterfalls
Depending on what kind of physical shape you're in, will determine how you get to the Nauyaca Waterfalls.
It costs $8 per person to hike to the falls. You can also go on horseback for $70 or 4×4 vehicle tours for $28 for Economy or $70 for Premium.
If you're in fairly good physical shape, I would highly recommend walking or hiking to the waterfalls. This is the cheapest option and also is a great workout.
Entrance Fee and Parking Lot
Once you pay for your tickets to the waterfalls, make sure you find out where to park your vehicle.
Some people make the mistake of parking right by the office, then have to hike an additional couple of miles to the waterfalls. I definitely would not recommend this, unless you're in killer physical shape or want to get an even greater workout in.
If you have a 4×4 car, you can travel down the hill to the parking lot. Parking in the lost costs $3, but is much safer than parking on the street because it's gated with a guard on-site.
Hiking to Nauyaca Waterfalls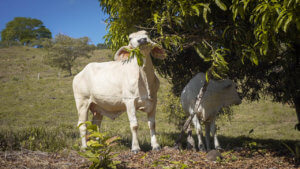 After you park your car, you can begin the hike. The hike to Nauyaca Waterfalls is about 3.5 miles each way or 7 miles roundtrip.
The hike is very scenic with several trees and plants, bridges and animals including deer and cattle. Portions of the hike is flat with a few steep and rocky parts scattered throughout.
Make sure to wear closed toed shoes and watch your footing throughout the hike. There's loose rock and uneven terrain, so you'll need to be a bit careful when hiking.
Waterfall #1 (Upper Waterfall)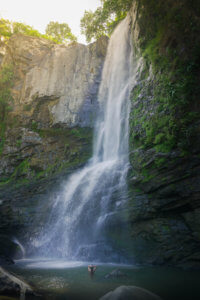 Once you reach the falls, you'll notice signs that point to Waterfall #1 (the upper waterfall) and Waterfall #2 (the lower waterfall).
The upper waterfall is 130 feet tall and great place to hang out, relax and take pictures. There are a few great lookout points and the surrounding area is just absolutely gorgeous.
There's a smaller pool of water that you can take a quick dip in, but it isn't advised to swim or jump off rocks in the pool here.
Waterfall #2 (Lower Waterfall)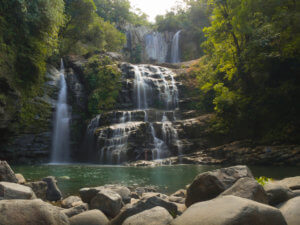 The second or lower waterfall was definitely my favorite. Itl is 60 feet tall with a huge swimming area and lush green rainforest all around.
It was so nice after a long hike to take a dip into the cool refreshing water. I swam out to the waterfall and sat on a rock and just let the cool water from the falls splash on me for a while.
If you're feeling adventurous, there's areas to climb and jump off into the water. Just make sure to be careful, because the rocks get really slippery and I witnessed a few people fall.
What to Pack
✔ Camera and GoPro
✔ Bug Spray
✔ Sunscreen
✔ Towel
✔ Water
✔ Snacks / Lunch
What to Wear
✔ Water shoes
✔ Hat
✔ Sunglasses
✔ Bathing suit
✔ Light clothing
Helpful Tips
– Get there right when it opens Try to get there early in the day, as it can get very hot and parts of the hike aren't in shaded areas.
– Make sure to pack lots of water for the hike and snacks or a lunch for when you get to the waterfalls.
– Park at the bottom parking lot to avoid hiking extra miles.
More Information Nauyaca Waterfalls
Hours: The office is open Monday through Saturday from 7 a.m. at 2:30 p.m. and Sundays from 8:00 a.m. to 2:30 p.m.
Type: Natural Attraction