Rainmaker Conservation Project is a 1,500 acre reserve dedicated to the preservation of Costa Rica's rainforests.
The park features several hiking trails, hanging bridges, platforms, rivers and pools filled with a variety of plants and animals.
Here's everything you need to know about Rainmaker Park in Costa Rica.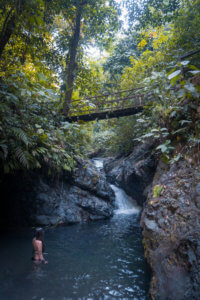 Getting to Rainmaker Park
Rainmaker is easily accessible from Costa Rica's capital San Jose and Manuel Antonio, another major tourist destination.
If you're traveling from San Jose head south on the main coastal road towards Manuel Antonio. Follow the signs until you pass the town of Parrita and just after you will see signs for Rainmaker. Follow the signs until you reach the park.
If you're traveling from Manuel Antonio, head north on the main coastal road. You'll see the Rainmaker sign just after the town of Pocares. Follow the signs until you reach the park.
Self-Guided and Guided Tours
Once you arrive at Rainmaker Park, you have the option of choosing self-guided or guided tours.
If you choose a self-guided tour, you are given a map and free to roam around the park at your own pace.
We chose this option and had no issues navigating our way through the park. The map is easy to understand and there are signs throughout the park.
The cost of a self-guided tour is around $20 per person and you can stay in the park as long as you want.
If you prefer to have a tour guide show you around the park, Rainmaker offers three different tours. The tours include a River and Canopy Walk, Amphibians and Reptiles and a Bird Watching tour.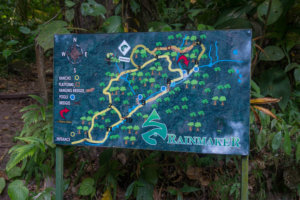 Hiking Trails
The park has amazing hiking trails that connect you to different parts of the park. The different trails are deep in the rainforest with several unique plants, trees and animals.
Some of the trails are a bit steep or uphill, but not overly strenuous for the average person.
Rainmaker is in a remote location with minimal paved areas. I would advise wearing closed-toed shoes while on the trails to keep your feet protected.
One of my favorite parts while hiking on the trails, was the unexpected cattle that came right up to us.
At first I was a bit scared because these animals are massive. After seeing how friendly they are, it was a fun experience walking alongside them on the trails.
If you zoom in close on the picture below, you can see one on the trail up ahead.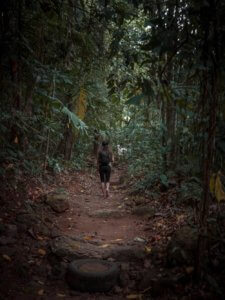 Canopy Hanging Bridges
The views from the suspension bridges inside the park are absolutely incredible. Some are raised high above the ground and make you feel like you're walking on the treetops.
Some of the bridges are really narrow and can sway a bit, so try to through one person at a time. Once you're across, there are platforms you can lookout on that have some of the most spectacular views of the rainforest.
If you are massively afraid of heights, you have the option to skip the bridges and take different trails instead. I recommend at least trying them out first, before skipping them altogether.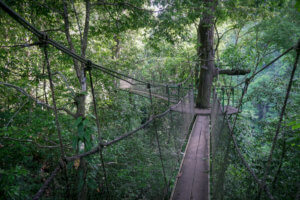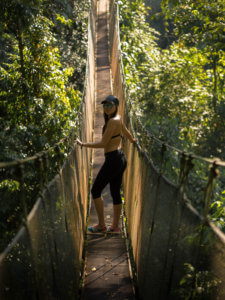 Wildlife In Rainmaker Park
Rainmaker has a tremendous amount of wildlife throughout the park. You can experience everything from unique insects, amphibians and reptiles to tropical birds and aquatic animals.
The park offers a few different animal tours to see as many animals as possible with a knowledgeable guide.
If amphibians and reptiles are your thing, there is a special night tour to specifically see all of these animals after dark. The amphibians and reptiles that can be found inside the park include frogs, lizards, toads, geckos, snakes and iguanas.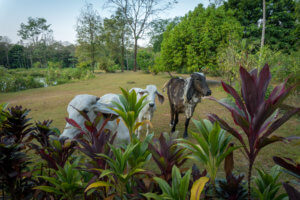 River Walks and Pools
There are several connecting rivers with small waterfalls and shallow pools throughout Rainmaker.
Definitely remember to pack or wear your swimsuit as you'll want to take a refreshing dip along the way.
The rivers and pools inside Rainmaker will always be really memorable for its tranquil ambience and some of the interesting wildlife we encountered.
As we were swimming and taking all the scenery in, out of nowhere a wild river otter scurried out of the water and up a nearby embankment. I've never seen one in person before, so it was incredible so close to it in a natural setting.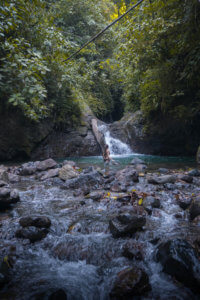 What to Wear and Bring:
✔ Water Shoes (mine can double as hiking shoes)
Womens water shoes  https://amzn.to/2NUMkap   
Mens water shoes        https://amzn.to/2pnbLnd
✔ Boots or Hiking Shoes
✔ Water Bottle
✔ Bathing Suit
✔ Sunglasses
✔ Sunscreen
✔ Towel
✔ Bug Spray
✔ Change of Clothes
✔ GoPro and/or Camera
More Information Rainmaker Park
Cost: $20 Entrance Fee
Hours: 7 a.m. – 6 p.m. Open Daily
Type: Conservation Park, Natural Attraction