Saona Island is the most visited natural attraction in the Dominican Republic. It is part of Parque National del Este, a protected nature reserve.
Every year thousands of tourists, filmmakers and photographers flock to Saona Island. The white sandy beaches and crystal blue water are absolutely spectacular.
Overview of Saona Island Tour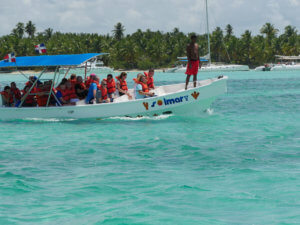 There are several tours to choose from when visiting Saona Island. The Saona Island tour we booked was a full day excursion by catamaran and speedboat.
The tour includes roundtrip transportation by bus to your hotel, open bar all day long, a buffet-style lunch, snorkeling and a speedboat and catamaran ride to and from Saona Island.
Saona Island Tour Pack List
✔ Bathing Suit
✔ Hat
✔ Sunglasses
✔ Sunscreen
✔ Beach Towel
✔ Water
✔ Snacks
Start of the Tour: Bus Ride
The tour bus picked us up at our hotel in Punta Cana around 7 a.m. After spending about an hour or so picking up others from various hotels, we began our trip to the town beach, Playa Bayahibe.
The tour guide explained that once we got there, we would be traveling by speedboat to Saona Island and by catamaran on the return trip.
Sometimes the tour is the other way around, starting with catamaran and ending with speedboat.
Playa Bayahibe and Speedboat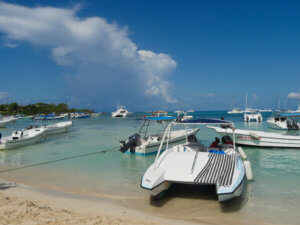 The bus ride from Punta Cana to Playa Bayahibe took about an hour and a half. When we arrived, several boats lined the shore.
Vendors were everywhere, selling hats, jewelry, towels, waterproof cases, you name it. It was advised to us to not buy anything from the vendors on the beach so you didn't get bombarded by 50 others.
After waiting on the beach for a few minutes, we all boarded the speedboat. When traveling by speedboat it takes about an hour to Saona Island.
Just five minutes into the boat ride, the boat stopped at a reef so people could get out and swim and snorkel.
A Dominican man dressed as Jack Sparrow from Pirates of the Caribbean was also on the boat. He went around pouring rum drinks for everyone (he was awesome!).
Saona Island's Natural Pool and Sea Stars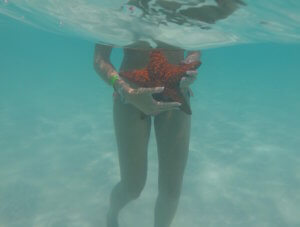 Before getting to the beach, the tour makes a pit stop at Saona Island's Natural Pool. People can swim, snorkel or simply enjoy the sunshine with a drink.
The area is shallow and sea stars can be found all around the area. The vibrant colored sea stars are absolutely beautiful against the white sandy ocean floor.
Visiting Saona Island
When we arrived to Saona Island, I was in awe. What seemed like millions of palm trees surrounded the island. The ocean was crystal clear and warm and the beach was fine white sand.
While on Saona Island, you get about two and a half hours to relax or explore at your leisure. A buffet-style lunch and open bar is included in your tour. The buffet lunch included chicken, pasta, bread, rice, potato salad and more.
Since the tour is extremely popular, the beach is a bit crowded. If you walk along the beach for a little while, you can find more secluded areas.
Even after spending a just over a couple hours exploring, I felt like I could have stayed there for days.
It's truly one of those places that you never want to leave.
Traveling Back by Catamaran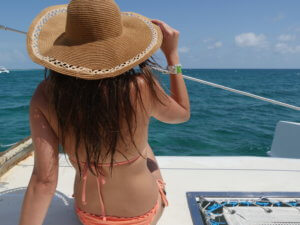 The catamaran trip back to Playa Bayahibe takes about 2 hours and is a blast! Drinks are flowing and part of the boat basically turns into one big dance floor.
The catamaran is much bigger than the speedboat, so it was nice to walk around and meet new people. It's always fun to make new friends from all over the world.
Final Thoughts: Recommend
Overall, I highly recommend the Saona Island tour. There are several options for this tour and the one we chose can be found HERE.
For those that love sunshine, magnificent beaches, clear blue water and cold drinks, definitely check out Saona Island.
More Tour Information
Tour Duration: 12 hours
Price: $$
Type: Full-Day Tour