Los Haitises National Park is a spectacular natural forest located on the northeast coast of the Dominican Republic.
It was established in 1976 and is made up of beautiful mangrove forests, ancient caves, islets and San Lorenzo Bay.
Several birds and mammals live in Los Haitises and some are even indigenous to the area. The different species of birds include brown pelicans, barn owls, stygian owls and magnificent frigatebirds.
Visiting Los Haitises National Park is an amazing experience that is rich in Dominican history and culture. The park is absolutely breathtaking and I highly recommend taking a full-day tour.
Best time to Visit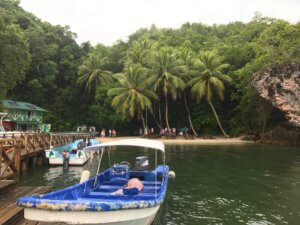 Dominican Republic weather is beautiful and warm year-round with average temperatures in the mid-70s to mid-80 degrees fahrenheit.
There really isn't a bad time to visit the Dominican Republic, but if you're looking for the sunniest weather and fewer tourists visit during March through May.
December to February is peak tourist season, so prices on flights and accommodations are usually higher.
The Dominican Republic does have a hurricane season, which lasts from June to November. Los Haitises is also known for having more rainfall than other parts of the Dominican Republic, so also keep that in mind when booking travel.
We went in early August and while we saw sunshine all other days of our trip, we experienced heavy rainfall intermittently during our time at Los Haitises National Park.
The rainfall definitely added some hilarity to the overall to the experience. However, if sitting in a boat during heavy rainfall sounds like something you'd rather not go through, try to avoid going during hurricane season.
Overview of Los Haitises National Park Tour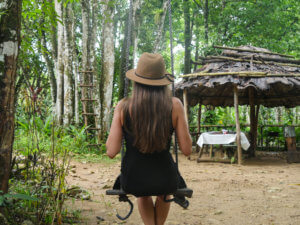 The Los Haitises National Park tour includes roundtrip transportation by bus to your hotel, boat ride through mangroves, ancient cave tour and a scenic ride to a natural waterfall with a buffet-style lunch.
Bus Ride to Los Haitises National Park
We got picked up around 6:50 a.m. from our hotel in Punta Cana. The bus ride is about 2 hours to Los Haitises.
During the scenic bus ride, the tour guide pointed out different landmarks, wildlife and discussed Dominican history and ancient culture.
Mangrove Forest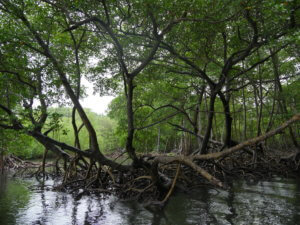 After the bus ride, we got into a river boat. The first part of the boat ride, you enter the opening of the water that's surrounded by a massive mangrove forest.
The mangroves were absolutely beautiful with massive branches twisting and turning in the water.
One of the guides stood on the bow of the boat with a wooden tool to guide the boat through the narrow water passageways.
There was a ton of wildlife in and around the mangroves. I spotted several birds, fish and even a few crabs. One small crab decided to hitch a ride and made it onto my seat in the boat!
The Islets (Keys) in San Lorenzo Bay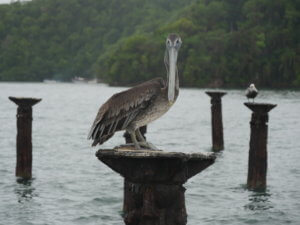 The islets in San Lorenzo Bay are incredible! The boat takes you right up to the islets for a closer look at the different plants and wildlife.
One of the islets, Cayo de los Pájaros (bird key) is known for having a presence of several Frigate birds and pelicans.
If you look in the sky, you can see birds circling overhead around the forested landscape.
It was raining throughout the day when we went. The mist from the rain coupled with the wildlife and landscapes felt like something straight out of Jurassic Park.
Exploring the Ancient Caverns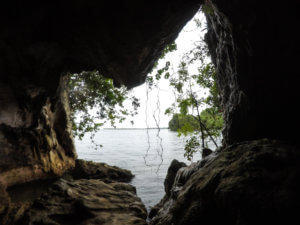 Once you're of the boat, the tour guide takes you into caverns that are right near the water.
Inside the caves there is prehistoric art all over the walls and rocks. The ancient paintings include birds, owls, humans and other various animal species.
Some of the art dates back to more than 500 years old.
While touring the caverns, some areas have little to no natural light. We were given a flashlight to explore and it was incredible how much art we were able to find.
Natural Waterfall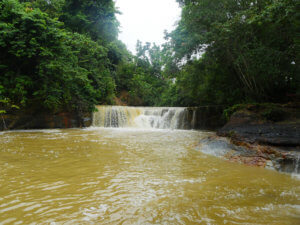 We headed into the forest by bus to a remote location deep in Los Haitises National Park.
When we arrived, I felt like I was in another world. There were trees and plants for miles.
We had a traditional Dominican buffet-style lunch in a little wood structure in the middle of the forest.
Not far from the lunch spot, was a natural waterfall and river. There was a rope that went across the river that people used to climb up to the waterfall and jump off back into the water.
It was different than any place I have been and it was absolutely beautiful.
What to Wear While Visiting Los Haitises
Wear comfortable clothes as you'll be walking around throughout the day. It's also a good idea to either wear or pack water shoes for exploring the caves, river and waterfall.
Los Haitises Pack List
✔ Sunscreen
✔ Sunglasses
✔ Hat
✔ Bathing Suit
✔ Bug Spray
✔ Towel
✔ Water
✔ Snacks
✔ Water Shoes
More Tour Information
Address: Los Haitises, Samaná, Samana 23000, Dominican Republic
Price: $$
Type: Full-Day Tour