1. Southwest is all about Tranfarency®
Transfarency® is Soutwest's fun little term that just means they are transparent about all of their fees and charges (or lack thereof).
They don't charge extra for bags and they don't hit you with a fee for changing your flight. These things definitely come in handy if you need to switch flights or take an extra bag.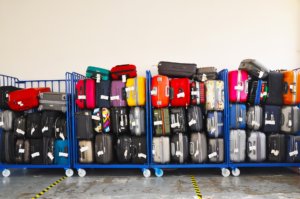 2. Your "Bags Fly Free®" When Flying Southwest Airlines
With so many airlines charging for luggage, it's nice that you almost never have to worry about luggage charges when flying Southwest Airlines.
One personal item (think a purse, backpack, small bag), one carryon bag and two checked bags are all free of charge.
The only time you would have to pay extra is for excess or oversized luggage, charged at $75 for each additional/oversized bag.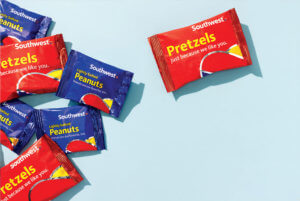 Image courtesy of PSFK.com
3. Complimentary Drink and Snacks on Each Flight
On each flight, Southwest provides a complimentary non-alcoholic drink and snack.
It doesn't matter if you're traveling 45 minutes or 5 hours, you can always count on a free refreshing beverage and a couple snack foods to eat.
If you're feeling like you want to enjoy the flight a bit more, alcoholic drinks are only $5 a pop. That's definitely cheaper than any airport drink, so it's worth it to just wait for drinks until you've boarded.
4. In-Flight Entertainment and Wi-Fi
Southwest offers free live and on-demand television on all Wi-Fi equipped aircrafts. For more access and entertainment, you can also purchase internet and movies for a small fee.
Internet is available for $8 a day per device to access email, social networks and browsing. Movies are $5 per movie per device.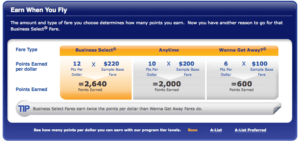 Image courtesy of Southwest Airlines
5. Earn Rapid Rewards® When You Travel
Southwest has a rewards program that you can sign up for free and earn points every time you travel. You  can earn points for flights, hotels, rental cars and more.
There's unlimited rewards seats, no blackout dates and your points don't expire as long as you have a flight-earning or partner-earning activity at least once every 24 months.
If you want to earn points at an even faster rate, look to their rewards credit card below.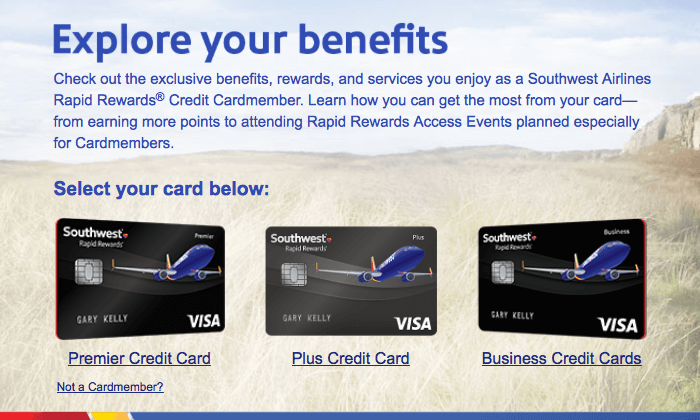 Image courtesy of Southwest Airlines
6. Rapid Rewards® Credit Card is Worth It
If you want to earn points quickly, signing up for the Rapid Rewards® Credit Card is a great way to expedite the process.
Southwest usually has somewhere between 40,000-60,000 bonus points for signing up. This ends up equaling around $500-750 for travel.
You can earn an unlimited amount of points by using your credit card. You earn 2 points for every $1 of Southwest purchases, Rapid Rewards® hotel and car rentals and  1:1 on everything else.
Read also: 5 Tips for Using Travel Credit Cards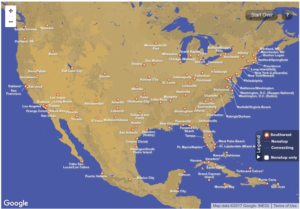 Image courtesy of Southwest Airlines
7. Great Airline for Domestic Flights
Southwest is a great choice for domestic travel. The airline travels to 101 destinations, which includes 41 states and a handful of international locations.
Southwest wants to keep fares low for its passengers, so in high-cost cities it sometimes uses secondary airports instead of major airports.
For example, Southwest uses Dallas Love Field instead of Dallas/Fort Worth International Airport and Midway International Airport instead of O'Hare International Airport (Chicago, IL). By doing this, flights are less expensive and still convenient for its passengers.
8. Not the Best Airline for International Flights
Currently, Southwest only flies to a handful of international destinations in Mexico, Latin America and the Carribean.
Southwest has added several international stops in the recent years and wants to continue to expand its international offering. Most recently, it has added a route to Cuba.
Check out Southwest International for more information on all international routes.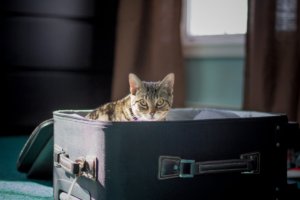 9. Family and Pet Friendly
When flying Southwest Airlines with furry friends or kids, there are policies in place to make it easy. Southwest allows up to six pets (one per paying customer) on a first-come, first-served basis on all domestic flights for $95.
When flying with an infant, Southwest allows you to carry him/her on your lap without occupying another seat, free of charge.
If you decide you don't really want them on your lap for that seven hour flight, Southwest offers Affordable Infant Fares for a FAA-approved car seat.