La Fortuna Waterfall is one of the most popular places to visit in the Arenal Volcano National Park.
The waterfall is a massive 200 feet with picturesque views of the Arenal Volcano in background.
It's no surprise why so many travelers visit this amazing natural attraction every year. If you're traveling to the area, definitely add La Fortuna Waterfall to your must-see list.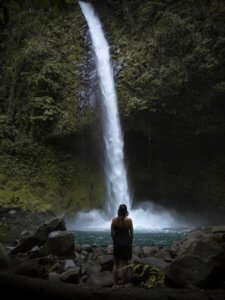 Getting to La Fortuna Waterfall
If you are traveling by rental car, there is a free lot you can park in once you get to La Fortuna.
Tour buses and taxis will also take you right up to the entrance. Please note, there are no public transportation routes to the entrance of the waterfall.
Visitor Center, Restaurant and Facilities
When you arrive, you will reach the visitor center. It costs about $15 for travelers and $8 for locals to enter the park.
Once you're inside the park, there are restrooms, shower facilities, a restaurant with a bar, souvenirs and a lookout point.
If you need to use the restrooms or any other facilities, I would advise doing so before you begin hiking. There are no restrooms after you begin the hike.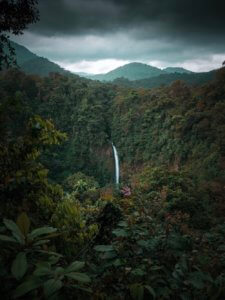 La Fortuna Waterfall Hike: 500+ Steps
The two ways to reach the La Fortuna Waterfall are by horseback and by foot. I recommend traveling by foot and hiking down the 530+ steps to the falls.
It's definitely a workout, but the hike is very scenic and completely worth it.
Once at the bottom, there are several places to swim, take pictures and hang out.
READ MORE: Exploring Manuel Antonio National Park in Costa Rica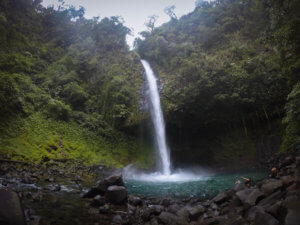 It's completely mesmerizing swimming around in the jungly pool as the water plummets from above. Just be advised not to get to close to the actual waterfall as its powerful force could cause great harm.
There's also an area that you can hang out where the waterfall flows into a river. It looks like a scene right out of the movie Jurassic Park. I felt like any second a pterodactyl was going to fly by.
After you get back up the 500+ stairs, head to the restaurant and grab yourself a beer. You've definitely earned it!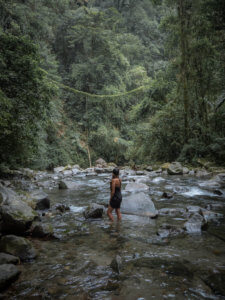 What to Wear and Bring
✔ Water Shoes
✔ Bathing Suit
✔ Sunglasses
✔ Sunscreen
✔ Towel
✔ Bug Spray
✔ Change of Clothes
✔ GoPro and/or Camera
More Information La Fortuna Waterfall
Price: $15 for Travelers, $8 for Locals
Hours: 7 a.m. to 5 p.m. Daily
Type: Natural Attraction