A popular eco-park and a beautiful place you could easily spend all day (or two) exploring is Xcaret Park in Mexico.
It's a perfect place for people of all ages and interests.  Xcaret has a variety of attractions and activities including underground rivers, nature pavilions, tropical jungles speed boats and natural pools.
Below are a few of my favorite attractions to check out while visiting Xcaret Park in Mexico.
Water Attractions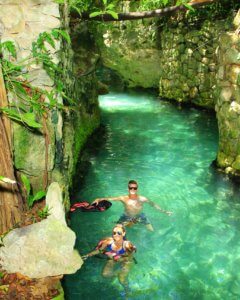 One of my absolute favorite things about Xcaret was swimming through all of the underground rivers. There are three underground rivers, Blue River, Maya River and Manatee River. The rivers connect throughout the park and flow into the ocean.
After grabbing a life jacket, you can jump in one of the rivers and get out at different points along the way.
Some of the rivers are narrow with beautiful mangroves, others have waterfalls and lush jungle.  And if you're feeling daring, a few parts of the river are completely pitch black.
I easily spent half my time at Xcaret swimming through the different rivers and I loved every second of it.
Wildlife and Nature Lovers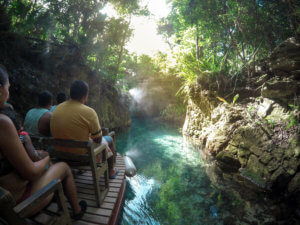 Xcaret has several nature exhibits including the butterfly pavilion, wild bird aviary, coral reef aquarium, natural museum of orchids and bromeliads, sea turtles, jaguar island, manatee lagoon, tropical jungle trail and paradise river.
Paradise River is a boat tour that takes you through canals surrounded by spectacular jungle and wildlife.
The wild bird aviary is home to over 1,500 birds. You can see vibrant toucans, parrots, eagles and flamingos throughout the park.
In the middle of the park is jaguar island, home to the largest cat in the American continent. In jaguar island, you will find jaguars and pumas roaming in their impressive jungly exhibits.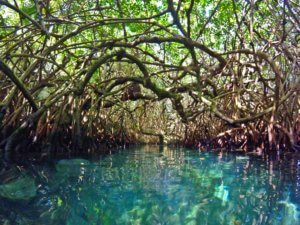 Thrill-Seekers
There are many options for action and adventure at Xcaret. The park has options for swimming with sharks and stingrays, underwater Sea Treks® and speedboats.
If you're after a thrill, hop on the Adrenalina high-speed boat ride on the Mexican Caribbean waters.
During stingray and shark encounters, you can snorkel with friendly stingrays and nurse sharks. A guide will also teach you about the species and conservation efforts.
The Sea Trek® is an awesome activity if you want to get up close and personal with sea life, without even getting your hair wet. Sea Trek® helmets allow you to breathe and communicate underwater. You can walk along the seafloor and admire the tropical fish of the caribbean. It's a really unique experience.
Beach Bums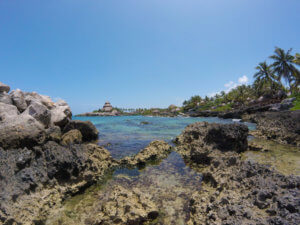 If you want to relax all day in the sun, Xcaret does not disappoint. The park is right on the beautiful Caribbean coastline and features lagoons, beaches and natural pools.
There are several beach hammocks that overlook the beautiful turquoise waters throughout the park. These are great if you want to catch a few rays or even take a quick nap.
The lagoons and natural pools are perfect place for total relaxation. I sat in one of the natural pools  for a while and just listened to the waves. It is a complete paradise.
More Information About Xcaret Park in Mexico
Price: $$
Hours: 8:30 a.m. to 10:30 p.m. daily
Location: Carretera Chetúmal-Puerto Juárez Kilómetro 282, Solidaridad, 77710 Playa del Carmen, Q.R., Mexico
Type: Eco Park, Nature Theme Park