"May the odds be ever in your favor." – The Hunger Games
Finding an Archery Lesson in San Diego
Whether you're a Hunger Games fan or not, you can't argue that watching swift archery is pretty bad ass. I'm no Katniss Everdeen (not even close), but I recently took a 90-minute archery lesson in San Diego at Roadrunner Archery Club and had an absolute blast. I couldn't help but feel a bit like Robin Hood each time I watched the arrow hit the target.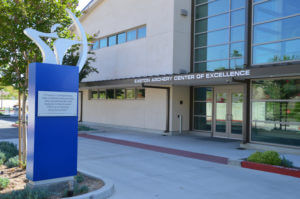 Directions & Parking
Roadrunner Archery Club: 2800 Olympic Parkway, Chula Vista, CA 91915
Enter the Olympic Training Center main gate, drive up the hill and turn right and park in the lot. Walk to the OTC visitor center and pass all the flags. The archery center is down the pathway to the right.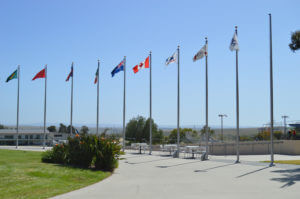 90-Minute Archery Lessons
Roadrunner Archery Club offers 90-minute archery lessons that bring you up to speed quickly. Walking in, I knew absolutely nothing about archery. The instructor was very knowledgeable and began by walking us through all of the archery equipment that we would be using in our lesson. Archery equipment included the traditional bow, arrows and an arm guard.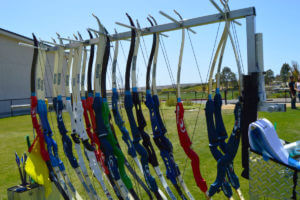 Archery Range Safety & Etiquette
Before shooting, the instructor walked us through archery range safety and etiquette. If you've ever seen how fast arrows move through the air, you'll definitely want to pay attention to this portion. Basic safety includes things like staying behind the shooting line until shooting by all archers has stopped and someone has yelled out "CLEAR." After, you're able to retrieve your arrows. Once all archers have retrieved arrows and you hear "CLEAR" again, you can begin shooting. Basically, don't shoot unless you know it's "CLEAR!"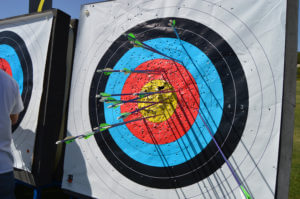 Archery Shooting Form
Correct shooting form is vital to getting an accurate shot. Of course, after only one archery lesson you're not expected to be a pro. One thing I really liked was that our instructor worked with each of us individually to help perfect our form. She explained how our stance should be, where to place your hand on the bow, which finger pads to use on the bow string, how we should aim, where we should look, all great one-on-one coaching that is necessary to be able to shoot properly. I was able to make some decent shots right away, which I definitely wouldn't have been able to do if it weren't for the instructors help.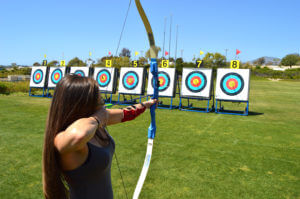 Now Ready for Round Two!
By the end of the 90-minute archery lesson, I was hooked! It took a some time getting used to the archery equipment and at first the form felt a bit weird. After taking several shots and with the help of an instructor, it gets a lot easier. Archery turned out to be a really fun activity. I definitely plan to take these new skills and try out some other archery ranges. I might even take another archery lesson in San Diego so I can learn more about the sport and perfect my shot!