Xplor is an adventure park in Mexico's Riviera Maya that caters to the thrill-seekers and explorers.
Xplor Park features jungle zip lines, hammock zip lines, off-road vehicles, rafts, underground rivers and caves.
The different adventures take place in natural outdoor and underground environments. If you're craving even more excitement, Xplor offers the same activities, but at night. With the use of fire throughout the park, Xplor Fuego sets the tone for a completely unique experience.
Whether you're visiting during the day or at night, below are six activities to experience while visiting Xplor Park in Mexico.
Jungle Zip-Lines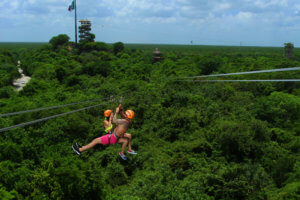 Xplor Park in Mexico has a total of 14 zip-lines through the incredible jungle. There are two different zip-line circuits to choose from that take you 147 feet high all the way to 26 feet underground.
You climb the stairs to each platform and zip-line your way through beautiful Riviera Maya.
It is an incredible experience flying through the vast green jungle and taking a plunge into a refreshing cenote.
READ MORE: Visiting Xcaret Park in Mexico
Off-Road Amphibious Vehicles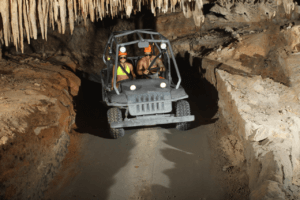 The amphibious vehicles were one of my favorite activities at Xplor. There are two circuits to choose from that take you on different jungle trails throughout the park. Each circuit is a little over three miles long.
 The jungle trails feature suspended bridges, underground caverns, caves and pools of water.
The vehicles are not on a track and completely in the driver's control. This is fun because you can make the ride as mellow or adventurous as you'd like.
Hammock Splash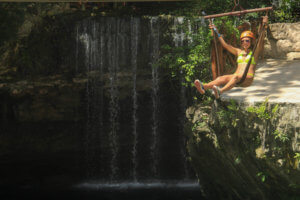 During the hammock splash, you sit in a hammock and fly through the air into cool cenote waters. It's completely different from the jungle zip-lines and extremely fun.
The hammock zip-lines are unlimited in your all-inclusive package, so you can hop in one and plunge into the waters throughout the day.
Stalagtite Rivers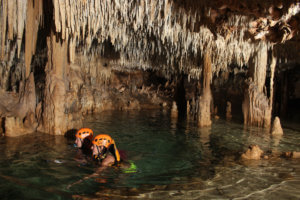 The stalactite rivers are similar to the underground rafts, except during this adventure you swim.
The rivers are over 1,300 feet underground and feature beautiful rock formations.
 Some of the areas are incredibly dark with only a few lights illuminating the way. You may even notice bats flying overhead as you swim through the different caverns. It is a very unique experience.
Underground Rafts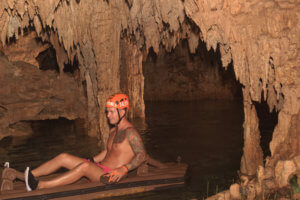 During the underground raft adventure, you're given swim paddles that you use to paddle with your hands. You sit atop a raft during the experience to explore the different underground rivers.
The underground rivers are absolutely astonishing. Natural rock formations, including stalactites and stalagmites are everywhere.
Exploring Caves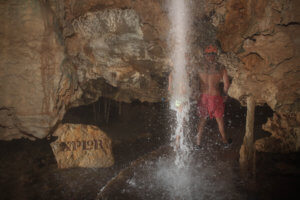 There are several caves and caverns throughout the park that you can explore while walking to different activities.
There are bursts of cool water and massive dinosaur bones on the different trails. You totally feel like a true explorer as you're walking through the different passageways.
All-Inclusive Adventure Park
Two Underground River Circuits
Two Jungle Zip-Line Circuits
Two Off-Road Amphibious Vehicles
Stalactite River
 Hammock Splash
Caves and Caverns
 Lunch buffet and unlimited beverages (non- alcoholic beverages)
 Locker for two
 Rest areas, dressing rooms and bathrooms
More Information Xplor Park in Mexico
Price: $$
Hours Xplor Park: Mon-Sat 9 a.m. to 5 p.m.
Hours Xplor Fuego: Mon-Sat 5:30 p.m. to 10:30 p.m.
Location: Carretera Cancún -Tulum Km 282, Puerto Juarez, Solidaridad, 77710 Playa del Carmen, Q.R., Mexico